SocialSER - send social signals from SER (FB/Twitter/G+ shares, likes, comments)

Gintas
Lithuania
This is finally working 100%. SocialSER allows you to send social signals directly from GSA SER into your money site or auto-generated tier 1/2 links, PBNs or money sites that prove Google your sites are not trash.
Stop wasting time & money buying social signal packages!
With this game changing plugin, you can buy social accounts, and keep using them for pumping social shares forever.

Think about it:
 do you really think webpage can be high quality, authoritative & useful but never shared on any of the world's biggest social network sites? Facebook + Twitter + Google Plus together have 2.4 BILLION of monthly active users and you are saying your tier 1/2 web 2.0 blog post is high quality even though no one has ever shared it? I'm not the smartest guy in the world, but if I figured this footprint out, Google 100% did too.
This is where SocialSER comes in:
SocialSER features
Google Plus engines - custom shares, post likes, custom post comments
Twitter engines - custom tweets, retweets, likes, custom replies
Facebook engines - custom shares, post likes, custom post comments, webpage likes
Super easy setup - launch SocialSER, input your accounts & proxies into it's dialog one time (saves/loads everything automatically), use it
Headless browser emulator, which means SocialSER 100% acts like a normal human person
Session storing! If you log into your account 100 times per minute - it's obvious that it's a bot doing the work, so SocialSER will login once and store the session cookies.
Same proxy for account - if you log into your account from 100 proxies - it's another footprint, so SocialSER will use the same proxy you specify for all of it's work with that account.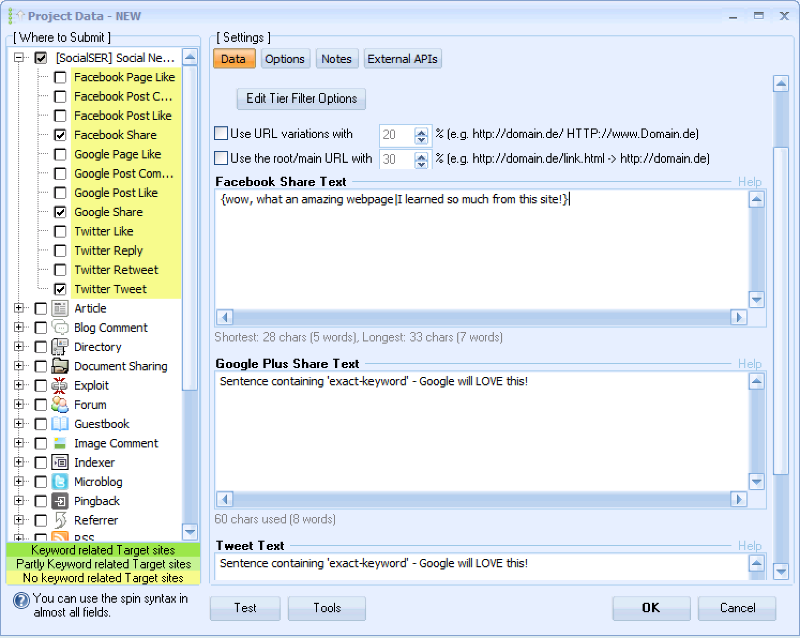 Circuit-breaker limits - afraid SER will accidentally post 500 tweets in a minute on your account and it will get suspended for suspicious activity if you miss some option? This will not happen, because of custom hard limits that it can't get through (useful when having many projects):
P.S. This was released as beta couple months ago, it had stopped working for very short period of time, this is relaunch, everything works and support is being provided.
Your money will help me pay my college fees

So help a brother out by subscribing or getting a lifetime license

If I see enough demand, LinkedIn & Pinterest engines will be added.