**NEW!** Real Time Verified GSA Auto Approve Lists - 300K+ per month - site lists [by loopline] **
loopline
autoapprovemarketplace.com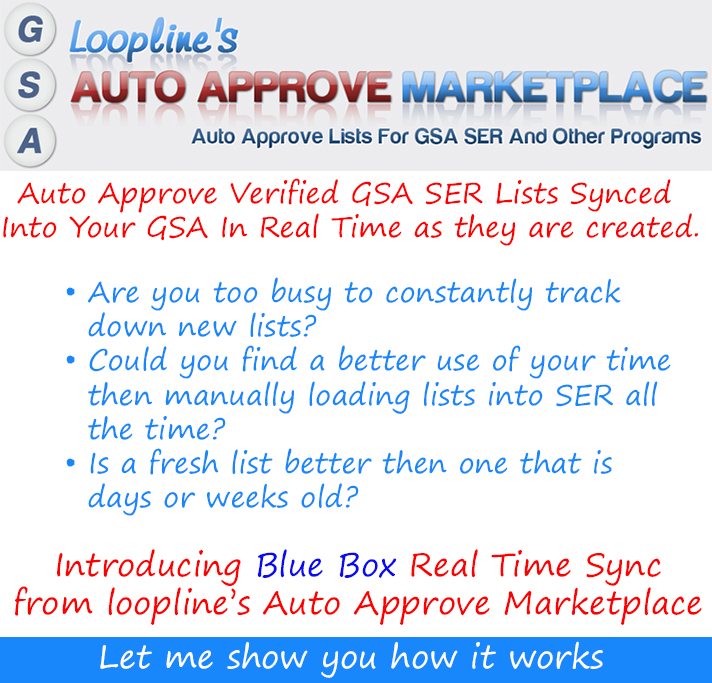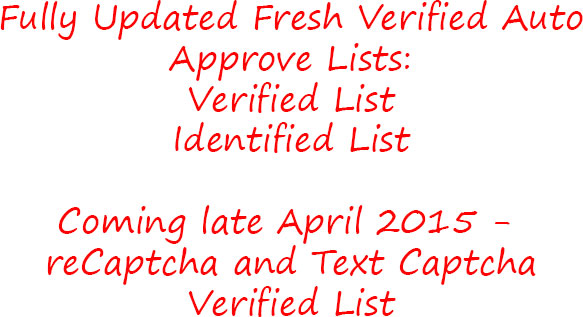 Blue Box Real Time Sync
Blue Box is my custom solution that is the first of its kind for GSA SER lists.  With Blue Box sync every new auto approve target that I acquire is auto synced into your copy of GSA SER in real time as I verify it.
No more waiting days or weeks for a new list release.  No more remembering to login and download the new list.  No more having to go to each project and import it or set it up as a global list.  No more Hassle.
All you have to do is set it up the first time.  Once Blue Box is integrated with your copy of GSA SER, you don't have to mess with it again.  Simply build your campaigns like normal, set the filters you want and SER will auto build links to existing and new campaigns using my auto approve lists.
New Targets Added in Real Time
No Hassles
Broken Targets Periodically Removed

Updated 24 hours a day, 7 days a week, 365 days a year
Master Lists
Regular Auto Approve lists are also available.  These lists will contain the same database of targets that Blue Box does.  Every 10 days the latest database of urls will be loaded into the members area for manual download.
Works with GSA SER and other programs
Includes the entire database of working URLs

All Broken targets from prior lists are automatically removed
New targets added
Included with Monthly Membership
Updated every 10 days
Limited 1 Off Lists
1 Off lists are a 1 time purchase.  1 Off list purchases are sold to non monthly members.  All monthly members automatically get all the targets from the 1 off lists.  They are automatically loaded into Blue Box as well as the Master lists in the members area.  More information follows later down the page.
Includes a portion of the database of good URLs
New Lists 1-3+ times per month.
Auto-Approve Verified
All urls are auto approve verified, no waiting for a moderator to approve your links.  All you have to do is load them GSA SER and it will do the rest. (unless you are using Blue Box, then they are auto loaded for you)  This saves you from having to do all of the following:
Source proxies for scraping
Scrape targets
Post to them
Check Verification emails
Verify found links
PR Data is also included with many of the urls.


Membership – Best Value
A monthly membership is the best way to take your rankings to the top.  Monthly members get Blue Box real time sync as well as the master lists (same targets as Blue Box, but for anyone not wanting to use Blue Box, or if using lists with another program besides GSA SER).  Monthly members get all the targets from all the 1 off lists I release, plus targets that are not released to 1 off list buyers.
Blue Box

Includes the entire database of good URLs
All 1 off lists
Exclusive targets not released to 1 off buyers
Every full monthly subscriber gets ongoing access to ALL auto-approve lists as well as Blue Box Real Time Sync.

In the past, I sold lists individually, but this was not the most cost-effective solution for many of my customers.
I release new lists at least 3 times per month – sometimes more. That means I'm constantly refreshing and adding new URLs. If you bought these lists separately, you'd be spending well over $100 every month on average.

My customers asked me for a better solution, and I'm happy to accommodate…
For a low subscription of just $58 per month, you can now get ongoing access to ALL the lists.
With a monthly subscription, you get WAY more value and more URLs. Rather than buying just one list here and there, you get the total volume of URLs: over 300,000 per month.  New targets constantly added and broken ones removed.
It just makes more sense for your wallet – AND the wide range of URLs ensures that you are diversifying your link-building, which Google loves.
1 Off Lists
1 Off lists are for those users that don't need to do a lot of link building, or those wanting to test out the service.  This is the most expensive option long term.
One and done purchase with no reoccurring subscription
The least expensive option upfront, but the most expensive option long term
A portion of the total links available in the database

1 Off list purchases do not have access to Blue Box real time sync
Some customers still prefer to only purchase an occasional list for link building on markets that don't have high competition, or to supplement their own link building efforts.  Others just want to trail the service without spending as much today or signing up for a subscription.
1 off lists are the way to go if this is what you need.  I do not strip out the top quality links, like contextual, dofollow, links that allow anchors etc… You still get the same quality of list that the full members get.
I do however release additional lists that are exclusive for full members that are not sold as 1 off lists.  If you buy 2 or more 1 off lists per month you will be spending the same or more on average then a full membership and getting half or less of the total targets and benefits.
1 off lists are also often severely limited in the number of copies sold, as all full members get all 1 off lists so in order to maintain quality I limit the number of 1 off list sales accordingly.
You will need Captcha solving to take advantage of these lists.  I recommend GSA Captcha Breaker, if you do not already have it.  It is a 1 time purchase and you can use it as much as you want.
100% of my lists are built ONLY using GSA Captcha Breaker!  No more buying human solving services or monthly subscription services for captcha solving!


OR

1 Off lists can be purchased on the 1 off page, click below to view currently available 1 off lists.


Let one of my current Blue Box sync users sum it up for me: