SDK for Dummies - How to make your own captcha definition
Creating your own captcha definition with the SDK of Captcha Breaker is fairly easy. This post will show you how to create a new definition step by step.
At first you need stack of sample captchas. Depending on how complex the captcha type is you need at least 10-20 for very easy captchas and 100+ for the more complex ones. Basically there are two ways to obtain captchas.
1. safe unknown/unsolved captchas to file until you have enough samples collected
2. open a homepage with the captcha type and
a) copy/paste the image location and download them with the help of the SDK (add/edit/delete -> add -> from URL)
b) if that doesn't work you need to safe the captcha by hand with your browser (safe image as...). sometimes its even necessary to delete your browser cookies each time.
1. Open SDK -> 'File' -> 'New'
2a. Fill out all necessary fields in Captcha Info:
- Name
- Type
2b. Fill out all optional fields:
- Alternative Names
- Description
- Sample URL
- Icon File (which needs to be downloaded)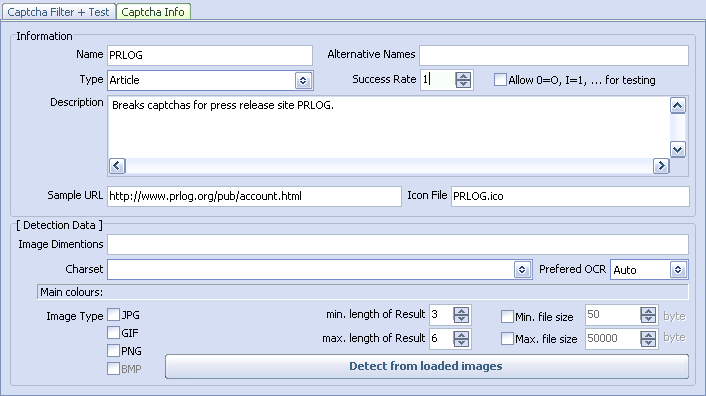 when done click -> 'File' -> 'Safe As' to safe the basic script to file in your 'captcha_systems' folder of CB
3. Add sample captchas to SDK in Captcha Filter + Test ('Add / Edit / Delete' -> 'Add' -> 'Folder' or 'URL')
4. Edit the answers for captchas ('Add / Edit / Delete' -> 'Enter Correct Answer for All' -> 'All with Edit me' or 'Just Everything') or use a human captcha service if possible ('Use decaptcher')
5. After all answers were edited 'Safe downloaded images to folder' (create a new subfolder named 'samples' in your destination folder of the captcha)
6. Go back to 'Captcha Info' tab and click 'Detect from loaded images'
Sometimes it is necessary to complete the 'Charset' with missing characters but this is not the case if you have the answers for a lot of sample captchas.
Safe the script to file again.
7.  Go to 'Captcha Filter + Test' tab and click 'Brute Force' -> 'Find best solutions' -> 'All Images'
This will take a while but depends on the number of sample captchas, difficulty level  and the size/dimension of the captcha type. 
If you are satisfied with the result of "Brute Force" you have to save the definition and you are good to go to use it with your tool of choice.
How to further optimise that captcha definition will be covered in another guide.