Hi.
I have ran like 10 lists so far and gotten only like ~1.5k contextuals MAXIMUM. I have asked people who used the same lists and they got 2k with ONE of the lists I used only, and I've no idea what am I doing wrong. We have almost the same setup, so I doubt it has to do anything with that.
My setup is the following: 100 threads, 20 semi-dedi proxies from seosolid, Captcha Breaker from GSA, Captcha Tronix, Instant Link Indexer + GSA SEO Indexer.
My server stats are the following: 8GB RAM, Intel Xeon E3-1220 V2 @ 3.10 GHz. It's a dedicated server from SEO Solid VPS.
GSA Version: 8.93.
I use the following engines: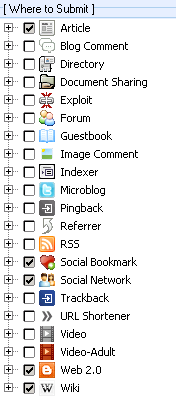 (Basically, I checked all, then uncheck all engines with nofollow links/engines who don't use anchor text and engines who don't use contextual links, then I uncheck Video+Video (Adult) manually)
This is my article settings: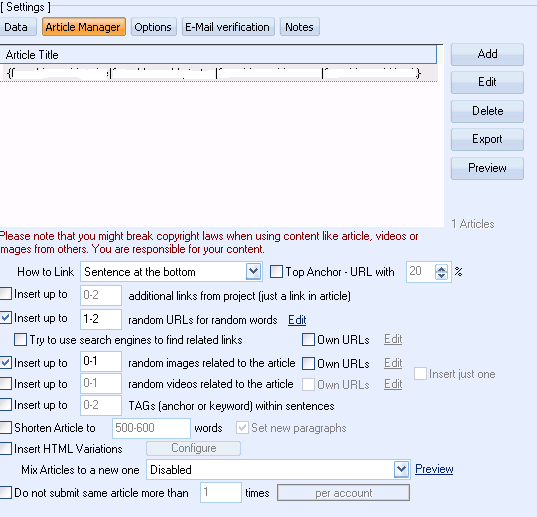 I use one article (highly spun) and I add 1-2 random URLs + 0-1 random images to the article.
E-mails: I use 10 Yahoo e-mails per project (Tested before using, all LIVE and NOT blacklisted).
I have 2 options checked in there:
1) Delete all messages (even if not related to submission done).
2) Delete messages if older than 3 days.
Main settings (below are images of my main settings):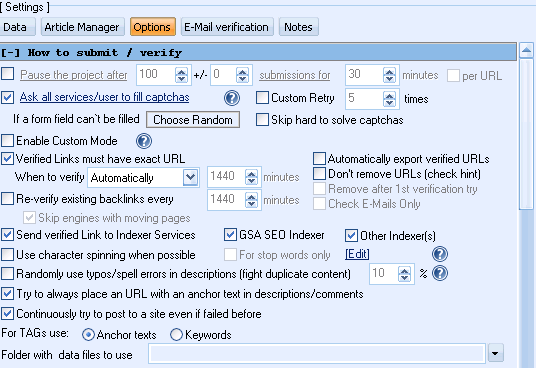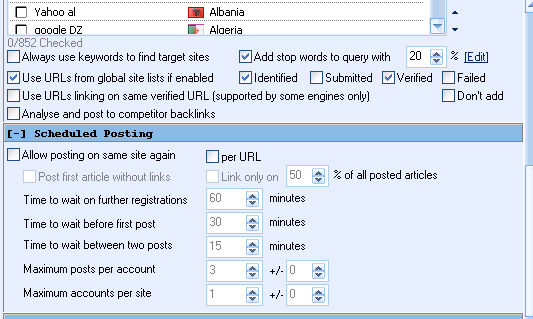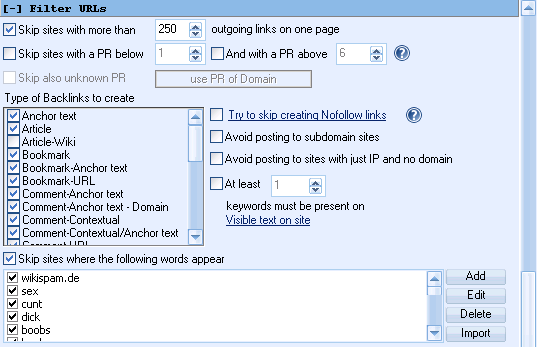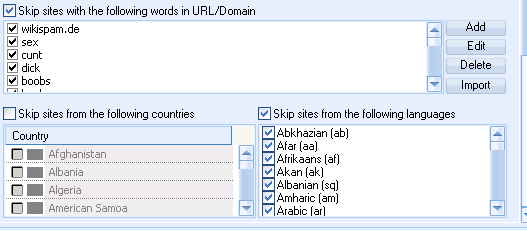 As you can see, I am not using GSA to scrape, I am purely using site lists only. I have <=250 OBL rule, just to be on safe side, and not get some links with thousand OBL. I do not have any PR filters though. I have filters for bad words, and filters for language. I only allow websites in English and German.
I have noticed that I have used same list on different domains with SAME SETTINGS except different articles, e-mails etc, and Ive gotten MORE links than some projects, SO, I have no idea what is going on with my GSA SER. I have applied 100k links and my project says Activity: N/A for no reason. Some projects are building links correctly, while others are not (every setting is the same) using the same lists.
What could be causing my problem and how can I possibly fix this?

Thanks in advance!