UI Suggestions
wts3849
US
1.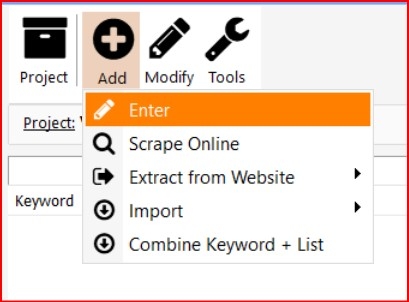 Enter Keyword option can only be entered one word at a time and won't take comma separators. I wish this option is provided with multiple line input. Currently, Combine Keyword + List option offers multiple line input but won't work without a file being combined.
2. I wish to have keyword filtering option on the main keyword list panel. That way, I don't waste time & resources scraping SEO-Score/SR for unneeded keywords. Currently KR has the search bar, some delete and some sort options that are available but not that usable. Please consider implementing below options that are available in Scrapebox. All of them are critical especially when a large list of keywords has been scraped from online with broad match. And it will be nicer if we can even apply below filters for highlighted keyword selections only as well.

3.
For Meta Data SR scraping option, I wish to have "Wrap Keywords in Quotes" or "Broad/Exact Match" sub-option. Some people feel it's more accurate to use exact match SR than broad match SR. And I personally feel the same way because broad match search result could sometimes be misleading.
These are just my personal suggestions and there is no pressure as I know you are swamped with many important projects. I just believe KR offers tremendous killer features and with a bit more improvements overtime, it will be the most essential tool in SEO.