Suddenly Submitted and Verified stats are gone
Hi folks, 
it now happened three times that my stats in the project area are gone. Yesterday evening I started the campaign and everything was fine.
Lots of links were submitted - but now when I look at the file where those get saved (show URls --> submitted), only one URL was left. All the rest is deleted somehow or just gone or I don't know what happened.
See the image: 0 | 0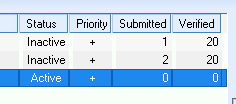 #
Is there anything that I've missed here maybe?
The software is updated and apparently all seems to be working - but then, when I come back it's simply gone.
Thanks for any help :-)
Tagged: