Can RankerX send links to GSA SEO Indexer from different host?
Hi, I have 2 VMs, one running RankerX and the other GSA SEO Indexer, I tried setting up the emulation of Indexers but none work.
I am trying to send links from Rankerx to the SEO Indexer using any of the emulated services and I get Invalid API key every time. I have configured an aPI key but doesn't work
Can anyone help please?
This is my setup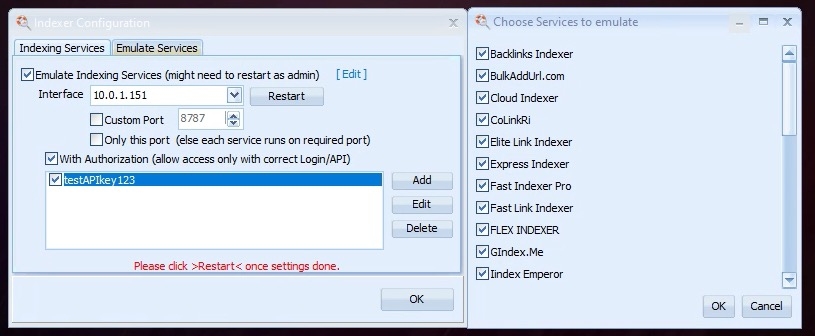 on the computer that runs Rankerx i setup the host file with the SEO indexer ip and services like so
# -= GSA SEO Indexer =-
10.0.1.151 api.crazyindexer.com
10.0.1.151 api.linkhuggers.com
10.0.1.151 api.linkprocessor.net
10.0.1.151 app.indexemperor.com
10.0.1.151 backlinksindexer.com
10.0.1.151 bulkaddurl.com
10.0.1.151 centraldemembros.com.br
10.0.1.151 colinkri.com
10.0.1.151 elitelinkindexer.com
10.0.1.151 expressindexer.solutions
10.0.1.151 fastindexerpro.com
10.0.1.151 fastlinkindexer.com
10.0.1.151 gindex.me
10.0.1.151 indexautopilot.com
10.0.1.151 indexification.com
10.0.1.151 indexinject.com
10.0.1.151 instantlinkindexer.com
10.0.1.151 lindexed.com
10.0.1.151 linkcentaur.com
10.0.1.151 linkindexr.info
10.0.1.151 linklicious.co
10.0.1.151 linkpipeline.com
10.0.1.151 member.cloudindexer.com
10.0.1.151 member.nuclear-link-indexer.com
10.0.1.151 mtb-bike.com
10.0.1.151 omegaindexer.com
10.0.1.151 onehourindexing.co
10.0.1.151 rankindexer.win
10.0.1.151 speed-links.net
10.0.1.151 web20indexer.com
10.0.1.151 witchindexer.com
10.0.1.151 www.colinkri.com
10.0.1.151 www.expressindexer.solutions
10.0.1.151 www.fastindexerpro.com
10.0.1.151 www.indexification.com
10.0.1.151 www.instantlinkindexer.com
10.0.1.151 www.lindexed.com
10.0.1.151 www.linkcentaur.com
10.0.1.151 www.linkpipeline.com
10.0.1.151 www.mtb-bike.com
10.0.1.151 www.omegaindexer.com
10.0.1.151 www.rankindexer.win
10.0.1.151 xindexer.com
# -= GSA SEO Indexer =-
firewall is disabled on both 
Thank you