What is your average/approximate recaptcha success rate? Mine is constantly getting "failed" results
nativebuddy
America
Hi guys, maybe you can guide me in the right direction here.
I'm using GSA SER, i'm using deathbycaptch service with 5 private proxies and 2 threads (yes, very low, but I just want to test things first, then scale up from there).
The issue is that I'm constantly getting the error:
"recaptcha captcha url resolve failed (proxy: my_proxy_ip_here)"

Of course, the proxy changes between the ones i'm using. But the rest of the message is the same.
The problem is that I'm getting this error very frequently. 
Do your recaptcha service fails as much?
Please see the image above  to get an idea of how often this is happening.
Shouldn't the captch service be more accurate? Cause I'm constantly getting "failed" (what's your approximate success ratio?)
I'm also including an image from the GSA SER settings configuration for your captcha service. (i have it set to "everything" because i'm trying to get the highest success ratio possible, as i'm trying to test this captcha service).
Every test or balance check passes fine, so I don't think is a issue with the configuration.

One weird thing is that when I do a test from the GSA SER settings, for a recaptcha v2 (the one that is failing when the project is running), I get a weird "answer" string. (image attached). Is this normal?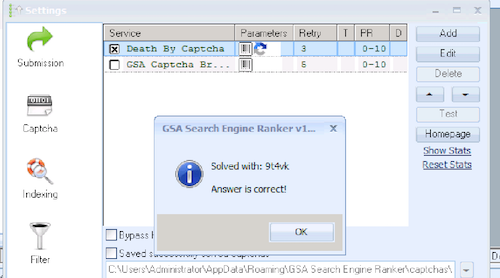 Tagged: